The first dog, which fulfiled our lifetime dream and with which begann the bilateral heart symbiosis was the english cocker ,,Cid Zábiedovská". He was born on June 24, 1978 and he was the 1st breeding blue roan cocker in Slovakia.

Photo: Cid Zábiedovská (1979)
This dog had a really unique character with which he acquired inclination also of our relatives and friends in that way, that some of them started to breed english cockers as well. His inborn talent and engagement to work on a field and in the forest showed us the the hunting passion. As a hunter-beginner I completed field trial as well as working trial, both in 1st class. Show results were always an excellent for this dog.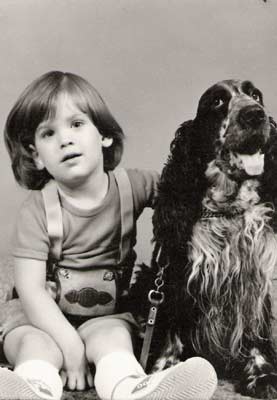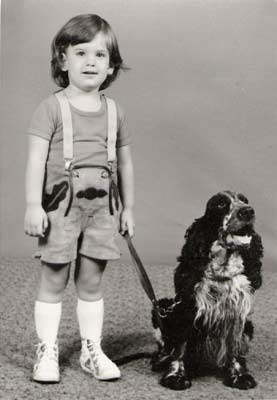 Photo: Syn Oliver & Cid Zábiedovská (1984)
Photo (from the left): Dixie z Mendlova námestí, Cid Zábiedovská (1979)
After one year, a bitch ,,Dixie z Mendlova námestí" joined Cid in our family. She was the older sister of the very well known czech champion of those times ,, Endy z Mendlova námestí". Dixie was very sweet and totally loyal to her family. From exterior point of view an excellent bitch, which completed all trials in the 1st class. This was the beginning of the kennel ,,Z Argílie" in the year 1980. Due to the fact that we were living in the city it was a big success that I was able to complete with both dogs the working exams.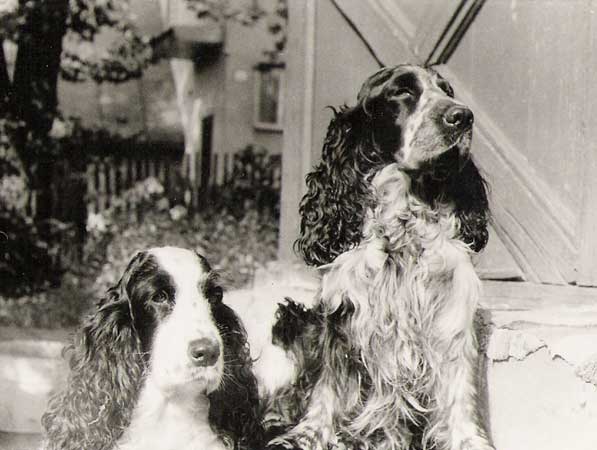 Photo (from the left): Dixie z Mendlova námestí, Cid Zábiedovská (1984)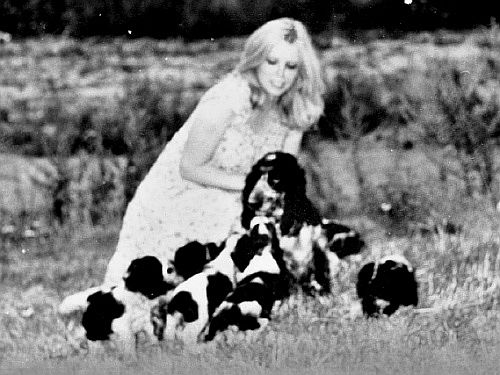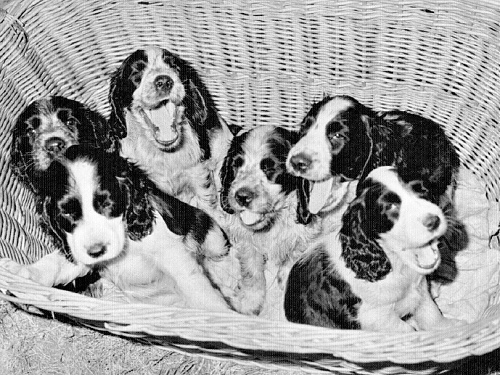 Our first litter, summer 1981
,,Katera od Stanovského,, - uncompromising individuality and a strong personality with very good temperament. She was a hunting dog with her full heart, from the exterior point of view Champion of Slovakia. On the other hand all hunting exams completed in the 1st class.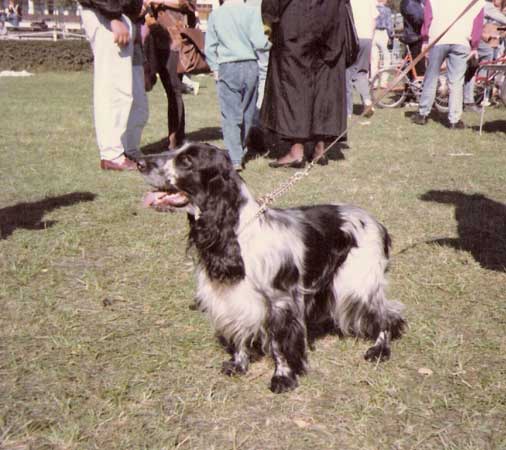 Photo: Katera od Stanovského (1991)
From the connection with famous import dog ,,Aro´s Amigo,, we kept a bitch ,,Collette z Argílie,, and a dog ,,Cid z Argílie,, . Both of them were slovak champions in exterior, Collette with completed working trial in 1st class.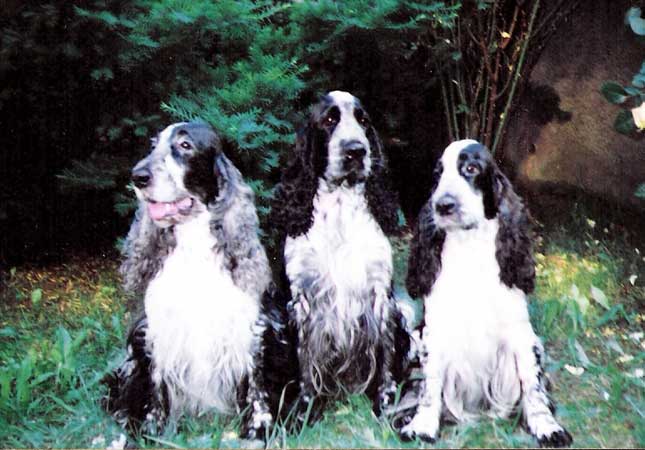 Photo (fropm the left): Katera od Stanovského, Cid z Argílie, Collette z Argílie (1994)
Unfortunatelly, due to some unlucky reasons, we couldn´t continue in this breeding line and we had to start from the beginning.
We started to search for an unique dog, which could ideally represent our perception of an english cocker spaniel. We habe been searching very intensive and visited also Great Britain & Cruft´s show for several times, but we were not successfull in this regard. Either we were not satisfied enough or we had to wait for ages. After another unlucky visit of GB and the local breeders there, Petr Studeník (very well known czech breeder & expert in this regard) recommended us the kennel PHILMARIS from Moscow, which was expecting a litter. Mrs Marina Matchevskaya was very kind to us and helped us to chose a puppy, to which we could also give a name. Mr. Jaroslav Matyáš (slovak international judge, who was judging in Moscow at that time and who brought our dog from Moscow.
This is how our Dandy – Phil Maris Dandy Devon came to our family.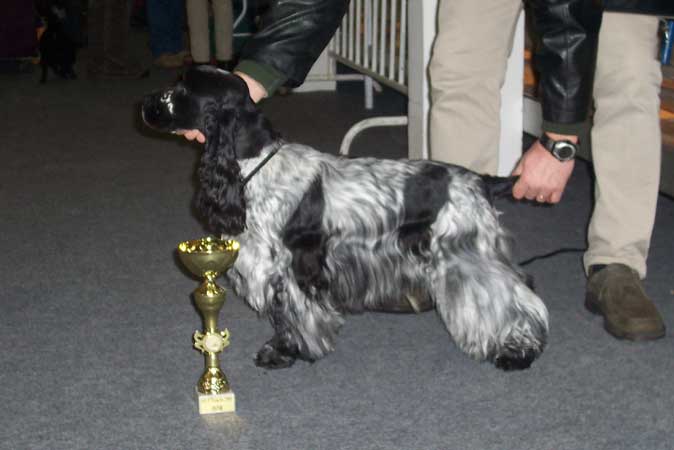 Photo: Phil Maris Dandy Devon (11 months old, IHA Trenčín 2005, Exc 1, CAJC, BOB)
From the first moment as he came out of the cage, he bravely put his tail up and souvereignly run through the whole flat. He has a fantastic character, inteligence, souverenity, passion of life and huge familiarness. As he was shown on the dog shows the whole season, until now we were able to complete only two working trials, of which me and Dandy are proud of.
To give you the full view, I have to mention also our young bitch Cela (Cela od Demov), with which son Oliver was hunting the whole hunting season. He completed with Cela also the working trial.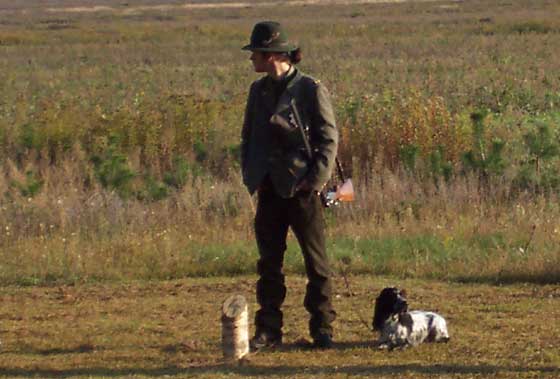 Ph
oto: S
o
n Oliver & Cela Od Demov (1
years old
) on the occasion of announcement of the hunting trial results
(Studienka 2005)